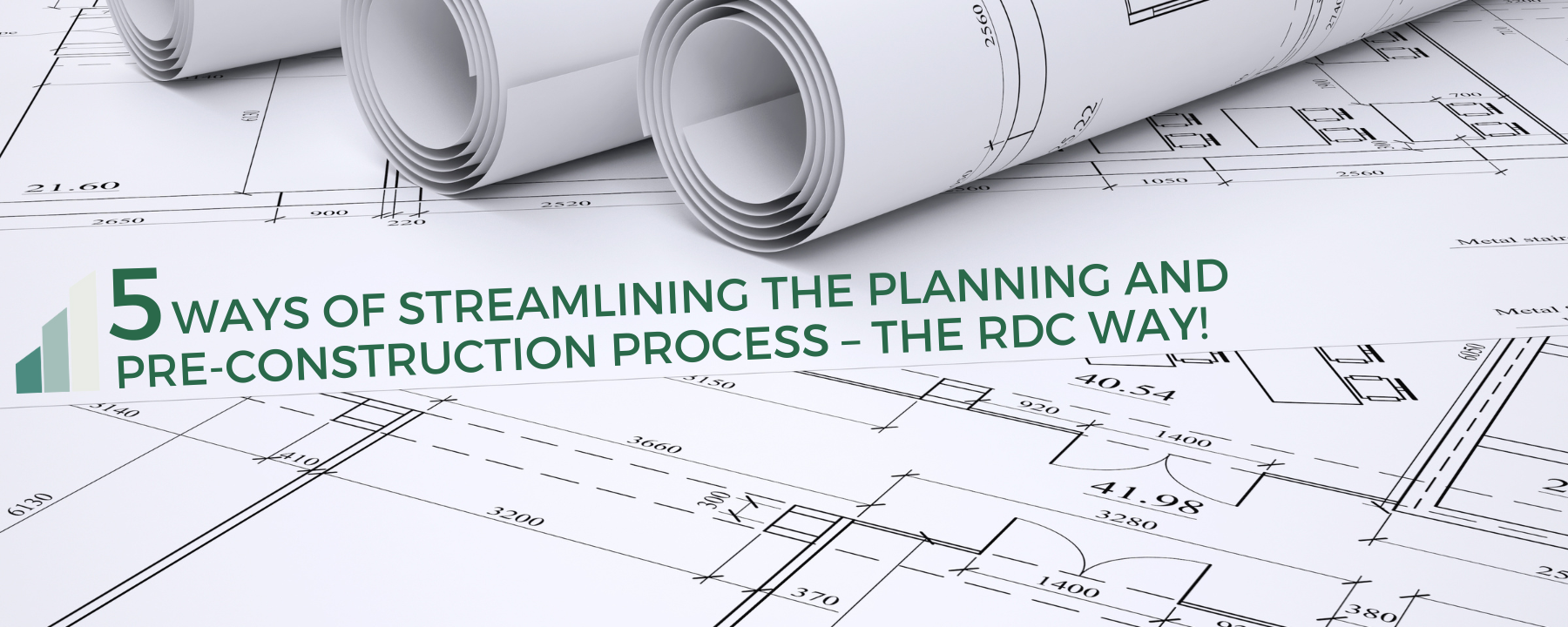 5 Ways of Streamlining the Planning and Pre-Construction Process – The RDC Way!
Meeting our client's aspirations is the part of our job that we love to do. However, whilst we love to satisfy our clients, putting together a successful development isn't always as easy as designing a great scheme.
Meeting the Clients requirements whilst complementing the surrounding area, responding to local and national planning policies, considering cost implications, and having two eyes on the pre-construction process is a much more involved process which requires an additional level of experience. In many cases, we have to adapt and evolve our proposals to take into account all of these factors…and much more.
Our experienced team have developed some simple – but golden – rules that we are sharing with you in this week's blog. We apply these to all of our proposed developments, which assist us in streamlining the early stages of a project and, ultimately, provide a better service to our clients. This allows any development we are involved in to break ground in a timely, efficient manner and with all considerations accounted for.
Let's get started….
Determine the Application type
This may sound like a simple task. In many cases, there is a clear route for planning to follow ensuring a successful approval for our client. However, a significant amount of our projects require a more strategic approach. For example, land outside of a recognised development framework, proposed development inside a conservation area, or variations & amendments to existing proposals to support our clients aspirations – whether changing house types to suit their range or preparing significant amendments to support their viability analyses.
In our experience, we have found that a holistic approach to each individual application is required for us to achieve the desired outcome.  
Obtain useful Pre-Application advice
We know from experience that the advice we receive from any Local Planning Authority (LPA) can only ever be as good as the information for which they are addressing. By ignoring important considerations during the pre-application process, we know that these are only likely to come back to affect the proposal during the consultation period. We also know, whilst planning policy is the most significant consideration in the process, responses to design can also take on a personal aspect.
Ensuring that all of our due-diligence on any proposal is comprehensively addressed, therefore proactively giving the LPA the opportunity to comment on all aspects of any development we are involved in. This gives us the reassurance we can respond and evolve our design proposals to give us the best possible chance for a successful scheme.
Ensure all requirements are considered
Following on from any pre-application advice received, we always look to gain a clear understanding of what is required to give us the best chance of success. Addressing these requirements is our next stage for establishing the baseline for a strong case for development. Have the LPA identified locally listed buildings in the area – which we haven't been aware of so far?
Are there highways constraints in close proximity which need addressing following consultation?
Are Archaeological considerations a barrier to development timescales?
Identifying these at an early stage and establishing the right team (with the right experience) around us to comprehensively address and mitigate any issues identified. This gives us a holistic view of the development proposals and allows us to confirm our critical path leading on to the construction phase.
Assess Build-ability & Cost
Once we know any issues we need to address, assessing them in practical terms assists us to evolve our proposals both for planning and construction.
Put simply, if a development is either financially unviable, or cannot be built, a good justification needs to be put forward for securing planning permission. Ensuring build-ability of the site in line with cost expectations is therefore an important part of our process. Preparing development appraisals based on local sales and land values has an important part to play within our pre-construction process, alongside comprehensive due-diligence of the proposed site to assess on-site conditions.
For example;
Are there existing trees on site which may affect the type of foundation required?
Do on-site soil conditions lend themselves to development?
How much of the developable area is required to be set aside for drainage considerations or to achieve a biodiversity net gain?
How about structure?
Have we considered enough steelwork to support the floors above?
Has the development been value engineered at an early stage to design out potential costly structural issues?
These are all factors which will affect the sustainability of the site, its financial viability, and therefore the development aspirations. A transparent approach in relation to the site's opportunities and constraints identified in our pre-construction process is always well received by our Clients, and preparing our due-diligence early in the process ultimately streamlines the efficiency of our design and build process.
Putting in more up front to assist a smooth transition to the construction phase is always something we strive to achieve. 
Have a positive outlook!
Positive thinking about an application doesn't just mean thinking positively about the outcome. With every development, there are a number of opportunities, constraints and elements which need both addressing and framing in the best possible light, and evidencing that they have been considered and addressed.
We take pride in the work that we produce here at RDC – whether using high quality graphical presentation material to support our response to all of the opportunities and constraints, providing comprehensive documentation outlining the benefits of the scheme, or looking to address all aspects of Sustainability – Economic, Social and Environmental. We always look to reflect this in any development that we are involved in.
By addressing all of the above considerations in the high quality drawings and documentation that we produce to support any of our schemes, we reflect the pride we take in our work and our positive outlook on to our proposed developments to ensure all of our proposals are given the best opportunity to succeed at planning stage.
If you would like to discuss any aspect of the planning and pre-construction process, please do not hesitate to reach out to our team.
Written by Guy Siragher (Associate Director of RDC)
Connect with Guy here on LinkedIn.